Head Boy & Head Girl Welcome
Riddhi
Head Girl 2023-2024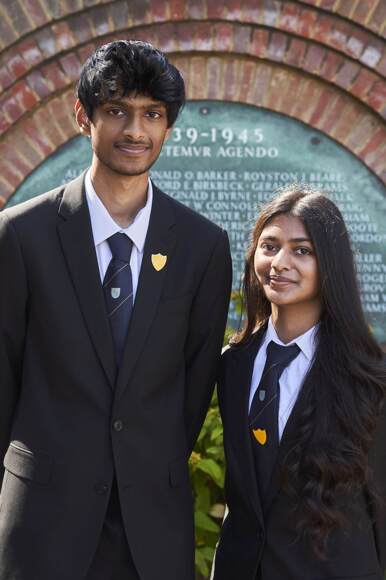 Empathy, honesty and resilience: these are all values that Kingsbury High School has taught me since starting at the school. From the very first day, the teachers became my guiding stars in my educational voyage teaching me to excel in my subjects, but more importantly, to believe in myself and chase my dreams. The school community has given me so much time and care over the years and I am thankful for all the opportunities they have provided me with.
From extracurricular activities to community service, I have had the chance to explore my interests in depth, develop a plethora of new skills and make a positive impact due to the amazing resources, facilities and programmes offered here at Kingsbury. These have all helped shape who I am today and given me the confidence to do anything I want to do.

As Head Girl, I want to show my appreciation and gratitude towards everything KHS has given me. I want to ensure that our students receive all the help they need and inspire them to always take initiative and to make a difference not only to this school but wider society as well.
---
Johann
Head Boy 2023-2024
Ever since joining Kingsbury, the school has been extremely welcoming. Throughout my time here the staff and students have all created an atmosphere of determination and growth, celebrated through the wide range of opportunities to develop not only academically, but also personally through important life lessons experienced along the way. The experiences I have gained here are some that I will never forget and the memories are some that I will cherish forever.

As Head Boy, I hope to motivate and encourage all of the students here to engage in school life in their own ways and to help build upon the welcoming community we have here. Kingsbury is defined by its students and I would love to help to provide them with as many opportunities as I can.